My whole life I've been told I wouldn't make it, from football to photography there has been a constant doubt hovering over my head. Now, my life is filled with constant love and support from more friends than I can count, but it wasn't always that way. This blog aims to tell a story, my story, a story of never giving up on a dream.
To kick this off we have to go back, way back, to the not-so-glorious days of high school. My football career in high school was plagued by injuries and being a 6'5 late bloomer. I was simply a nobody, both on the field and in the social realm as I let my introverted ways keep me from gatherings and friends. But I was determined to still live my dream playing division one college football. Luckily for me the offensive line coach at MSU saw something in me, a big frame, a clean slate, and a heart that just wouldn't quit. And so at 6'5 and 240 lbs I walked on to Montana State, I was puny compared to my offensive line counterparts who tipped the scales well passed 300 lbs. People laughed at me, many of my teammates at Billings West High laughed at me and told me I wouldn't make it through a single season, and if I did then I would still never see a single down at the collegiate level. Even the coaches at my high school laughed at this possibility and refused to admit that I was even recruited.
The first day of fall camp at MSU my nerves were on display and I think I only threw up a few times leading up to the first meeting. Freshman all gathered into a room, and high ranking recruits from across the country were debating the ever present argument of Texas football versus….well every other state (the Texans are quite proud of their heritage). Coach McEndoo, my coach, stood in front of the room and quickly silenced the room. He looked out and he said the words that would forever echo in my mind throughout my time at Montana State, "Look to your left, now look to your right, only one of you will make it until your senior year". "Holy shit" I thought to myself, that's not good odds for the walk-on from Billings. I looked to my left, and there was Texas offensive lineman, David Abercrombie, he was highly recruited and had a punch like I've never seen before, he could have stopped a freight train with it. And to my right, Killian FitzPatrick, a 6'8 giant from Oregon whose dad made a name for himself as a nine-year veteran as an offensive lineman in the NFL. It was obvious who would be the first to go, but I still believed.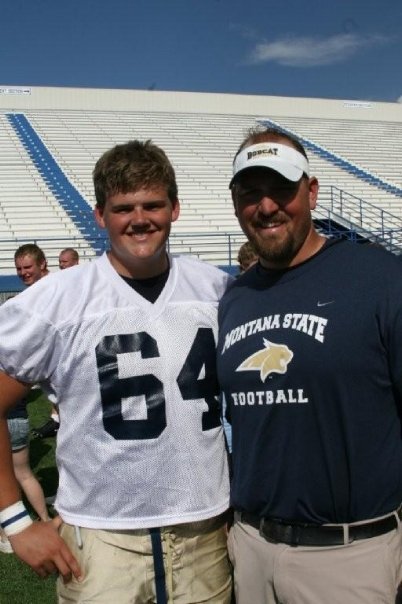 My redshirt year I put the time in and went from 240 lbs to 295 lbs, but this fight wasn't over. After spring ball coach sat me down and explained that I wasn't getting the invite to fall camp, but would be allowed to walk on after fall camp was over. But two days into fall camp someone was injured and I received a phone call to throw the pads on and come play. A few short weeks later during the home opener, Coach McEndoo turned to me and asked: "you wanna play". I could feel my heart race as I said, "hell yeah". Against the odds, and against what every person had told me, I set foot on that field. My first drive as a collegiate athlete, a 12 play drive for a touchdown. After the game, I walked out of the stadium and locked eyes with my father, one of the only people to ever believe me in, and it was a look that I'll cherish forever.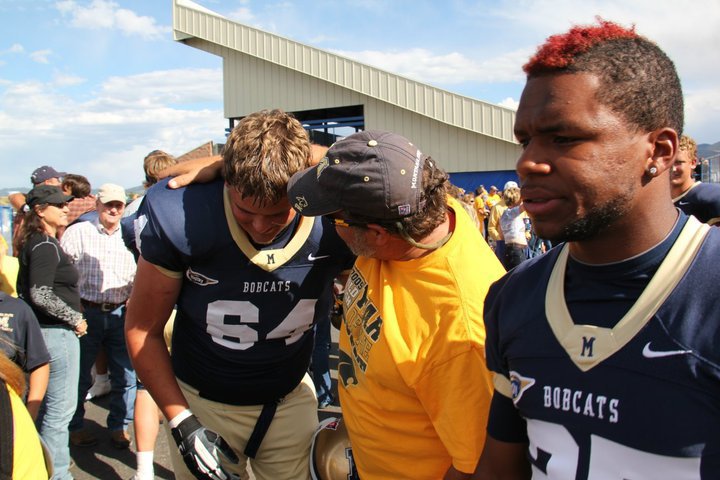 Five years after sitting in that room as a freshman I stood in front of my team to give my final speech to the team less than 24 hours after hanging up the pads for the last time. I looked across that room, and neither FitzPatrick nor Abercrombie was in that room. Coach was right, one out of three, and I had made it. It was in that moment I realized that this had nothing to do with talent, but everything to do with heart. I was never the toughest, the fastest, the strongest, or the most technical, but nobody ever questioned my heart. I never missed or was even late to a workout, and you better believe I would be there at 5 am with a smile on my face. It annoyed my teammates how I smiled through it all, I'd puke with a smile because I was grateful for every single day I had this opportunity.
After graduating from college life was no different, I began to pursue a career as a travel photographer. This category has long been considered the toughest to make a living at, as every person with a camera dreams of traveling the world to capture it. I was told over and over again to give it up, that my photos were beautiful but without a trust-fund to back me I'd be broke and unemployed in a matter of months. For the first few years, I toyed with the idea of going for it but was constantly told it was just a mere fantasy. Lucky for me, I was used to being told I couldn't do something. But I've been blessed (and cursed) with a heart that doesn't take no for an answer. A year and a half ago I gave up everything, sacrificed a job, relationships, friendships, and a stabile life to chase this dream. Now, a year a half later I'm still here, I haven't had to come crying home with my tail between my legs, I'm making it work. It hasn't been an easy year and a half, but it's a year and a half where I grew more and learned more than possibly in my previous 25 years of existence. The road isn't over, but I'm damn proud of where I am and what I've accomplished.
Why am I writing this blog? Not to brag about my accomplishments, and not to toot my own horn, but simply to tell the story of all of us. We've all been told no, but what matters most is what your response is. We all have dreams, hopes, and desires. It's characteristically human to think of the bigger picture. The odds are always going to be stacked against us, but the growth that happens because we fight turn into the lessons we carry for the rest of our lives.
When in doubt, always GO!
Andy
Follow me on social media (or just follow me around in real life if you want, but it's kinda creepy)