My first week of finding my #CalloftheWY with Wyoming Office of Tourism brought me from Lander to the quaint town of Pinedale. When I first rolled into town I saw a big sign that read "Pinedale: All the Civilization You Need" and it gave me a chuckle as I looked down main street and could see the end. But I quickly realized what the sign meant as I saw a grocery store, hardware store, apparel store and liquor store…which were all rolled into one long building at the beginning of town. Further exploration showed me great local gear stores, western stores and a local coffee shop that I'd later fall in love with (surprise, surprise). After spending some time getting acquainted with Pinedale, I soon headed toward the nearby mountains and learned the true meaning of that sign. With endless vistas, crystal-clear lakes and an absence of people, I suddenly realized that this place really was all the civilization I'd ever need.
At the beginning of my trip in Wyoming, I spent the first few days in the western town of Cody, followed by a handful of nights in the adventure town of Lander, but Pinedale seemed to be a perfect blend of the two. A place where real Wyoming cowboys still lived and worked, but also filled with young people with nothing more than a backpack to their name and a passion to climb mountains. My tiny home was parked next to Lakeside Lodge right on Fremont Lake and it ended up being one of my favorite weeks of the summer. The folks at Lakeside Lodge made me feel right at home and my first night there happened to be Thai Night at their restaurant. Curiosity got the best of me as I wondered what Thai food in the literal middle of nowhere Wyoming would be like. But my taste buds were shocked as I had one of the best sushi rolls of my life, followed by a Pad Thai that did the same.
The next few days were about getting acquainted with my new home and I kicked off this portion of my trip with a sunrise drive up Skyline Drive up with unbeatable views of some of Wyoming's highest peaks in the Wind River Range. After that I spent the afternoon thoroughly going through the Mountain Man Museum in Pinedale. For those that have heard my long-winded stories telling the tales of Jim Bridger, Hugh Glass and others, it will come as no surprise that I spent the better of the day here. Then I saw it… Jim Bridger's actual rifle. Now I don't fan girl over celebrities, athletic memorabilia, nothing, but this gave me the chills.
For sunset on my first full day, I headed out to the ranching community of Kora just outside of Pinedale. The afternoon storms had parted and were beginning to light up beautifully with the evening light. I was looking for a unique angle on the Wind River Range when I saw a dirt road that cut towards the mountains. My love of dirt roads took over and I turned down the road only to realize that I was actually on someone's ranch that also happened to be home to one of the most beautiful homestead cabins I'd ever seen. Now being from Montana, I understand how important it is to be respectful of private land owners and while I was turning around, a couple of men in a gator came heading up the hill to meet me. In true Wyoming fashion, they told me that had come up to see if I had broken down or if I needed help finding my way back to Pinedale. We chatted for a few minutes about the ranch, the homestead cabin and this special part of the country. Before too long, he said he needed to get back to work but to take as many photos as I wanted. While it seemed like I was met with friendly hospitality throughout my trip, that interaction was one of my favorites.
After heading back to my tiny house on Fremont Lake and snagging some much-needed sleep I was joined by one of my favorite people, Lindsay of Women Who Explore, as she was coming north from Outdoor Retailer on her way back to Calgary. She stayed for a few days of adventures and we were also joined by my new buddy Charles, a fellow videographer and photographer from Cheyenne. After the three of us became fast friends, we headed off for a hike around Green River Lakes. After a stunning hike, Lindsay and I cracked some Wyoming microbrews and I went for a cold swim to knock the sweat off. Watching the light dance off Squaretop Mountain is a memory all on its own, but sharing it with good company made it even better.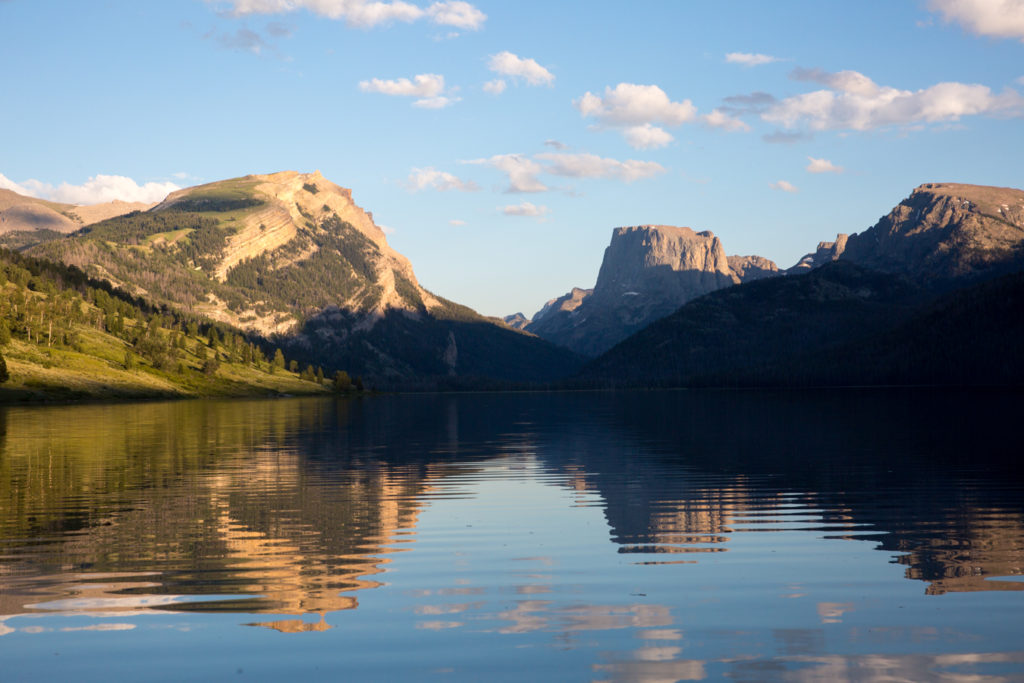 The following day Lindsay, Charles and my other buddy Dan (he helped me with tiny house transportation throughout the trip, plus he's an overall awesome person) and I borrowed a pontoon boat from Lakeside Lodge and headed out for an afternoon and evening of shenanigans. All summer long I've been craving a true summer experience—the kind that you see in movies that included a day out on the water with good friends, not a care in the world and a beautiful setting. This day on Fremont Lake provided just that, complete with cliff jumping, kayak rolling, a dance party and sunset chasing.
My last few days in Pinedale were fairly lazy days, catching up on rest and spending most of my time kayaking on Fremont Lake. A good chunk of my day was spent at Pine Coffee Supply, which upon my first visit felt like a coffee shop I'd see in Austin or Portland, not in Pinedale. It was love at first nitro cold brew and lemonade and I was hooked. (As side note, you all know how much I loved Lander Bakeshop , so please don't make me pick between the two.)
After this incredible week in Pinedale, Wyoming, I wasn't even remotely ready to head to the next destination. For me, after more than a year in constant motion, I was finally able to breathe, to sit and to truly relax. But Sweetwater County was calling and I would soon find out the tricks it had up its sleeve and I can't wait to share that part of Wyoming with you on the next blog.
Until next time, happy adventuring,
Andy
PS: If you're planning a trip to Pinedale, here are my suggestions on where to stay, things to do and the best places to eat and drink…
Lodging:
-Lakeside Lodge
-Chambers House Bed & Breakfast
Things to do and see:
-Museum of the Mountain Man
-Fremont Lake
-Granite Hot Springs
-Play on Fremont, Half Moon and New Fork lakes
-Hike in the Wind River Range
Where to eat and drink:
-Pine Coffee Supply
-Lakeside Lodge (be sure to hit up their Thai Night)
-Wind River Brewing Co.
-Patio Grill (for some truly authentic mexican food)
Insider tip:
-Plan to spend more days than you think you need in Pinedale. It's an incredible launching point for exploring and soaking up some of the most beautiful mountain scenery and activities in Wyoming.
This is a sponsored conversation written by me on behalf of Travel Wyoming . The opinions and text are all mine.