Growing up in Billings I took for granted that the dining scene in Billings was on par with the offerings of much larger cities, but in the last five years, the scene downtown has exploded and made for a very happy Andy. Now as a former division 1 offensive lineman I'm no stranger to food, and while I'm not trying to eat 10,000 calories a day anymore, I still love food. So when my friends from all over Montana (and the country) roll through Billings they hit me up for the details on the best grub in town. So, without further ado, here's a list that is sure to be controversial.
---
Breakfast/Brunch:
An essential to kick off any list is to find the best mimosas and brunch to soak up all of the amazing beer you drank the night before (but more on that later).
Fav: Sassy Biscuit. The Sassy Biscuit is a newcomer to Billings, but it didn't take long for it to find a way to my heart.
My go to: The bennie – shaved ham, caramelized pineapple hollandaise on their iconic biscuits
Honorable mentions: Seva, Bernies, McCormicks, Harper and Madison, and the legendary Stellas (and cinnamon rolls bigger than my head)
---
Coffee:
The artisan coffee house scene really has come to its own in the last few years and for that reason, you'll never catch me at any chain coffee shops.
My go to: MoAV Coffee House – Well anyone who knows me knows this is no surprise. I've been known to drive from Bozeman to Billings just to hang out at my favorite coffee house.
My go to: I've been known to spend up to 12 hours sitting at MoAV, and their drip coffee is one of the main reasons. But usually around 2pm I'm starting to crash and that's when it's time to grab the best dang iced vanilla latte this world has ever seen.
Honorable Mention: Annex, Black Dog, and Ebon Coffee
---
Casual dining
Whenever I'm in Billings I'm hard pressed to ever cook for myself because the casual dining scene is so over the top. Just walking around downtown I'm overwhelmed with options for every mood I'm in.
Fav: Stacked Grill – The competition for this spot was fierce, but I'm a sucker for an amazing French dip and I think stacked has everyone else beat!
My go to: The Dip always satisfies my hunger but don't sleep on the whiskey glazed meatballs and brussels as an app!
Honorable mentions: The Burger Dive,Crazy Mary's Fish and Chips (still the best fish and chips I've ever had), La TInga, Last Chance Pub & Cider Mill, McCormicks, Montana Brewing Company, Montana's Rib and Chop House, Pickle Barrel and Zydeco
---
Fine dining
Now Montana fine dining is far different than big city fine dining. You're far more likely to see a man in blue jeans and a nice button-down than in a suit, but don't let that make you think that the food couldn't stand on its own against those big city places.
Fav: Walkers – Walkers has been a staple of downtown Billings since 1993, but a recent remodel made a good thing even better. The menu has something for everyone, from juicy wagyu beef burger, to pho, to some of the best steaks in town.
My go to: Braised Pork Shank – I tried this for the first time last year and it was a game changer, and the side of bourbon brown sugar apples, whipped potatoes, and brussel sprouts left me questioning life.
Honorable Mentions: Bin 119, Commons 1882, Lilac, Jakes, TEN, and Wild Ginger
---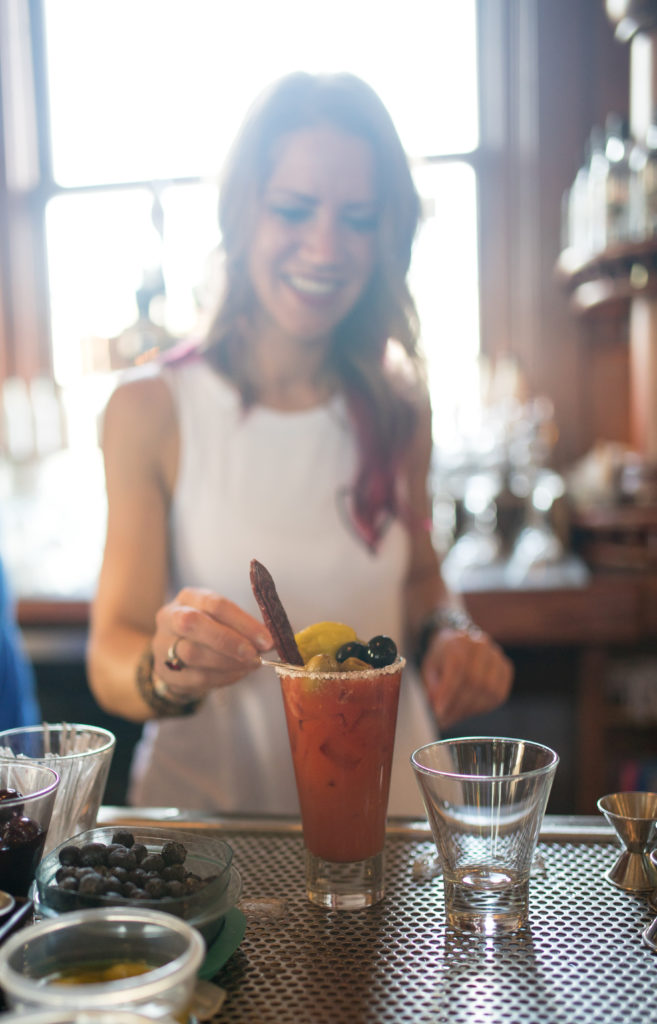 Cocktails:
With all of this good food it's important to know where to go for a night cap to wash it down. And while the fine dining restaurants hold their own for cocktails it's nice to go to a dedicated cocktail bar.
Fav: Trailhead Sprits – I've never had a bad cocktail at Trailhead and the distilerry awards lining the walls are a reminder as to why. Trailhead has made a name for itself on the liquor alone, but their cocktails seem to only make them better.
My go to: Chocolate Whiskey on the rocks. It's the ONLY chocolate whiskey in the world, and even if you're a whiskey snob like me it'll peak your interest. They add cocoa nibs and vanilla bean into the barrel to give it some sweet notes without an overpowering taste of chocolate.
Honorable Mention: The espresso martini at Doc Harpers can't be ignored for this list.
---
Breweries
Saving the best for last, breweries! If I'm in Billings there's a good chance you can find me at one of the seven breweries. Six of those breweries, one distillery, and one cider house lie on Montana's only walkable brewery trail, a 1.5-mile trail through downtown to quench your thirst. Definitely check out this map by my friends at Visit Billings, Walkable Brewery Trail to plan your route.
My fav: Überbrew- Picking a favorite was no easy task, but Überbrew stands out for a few reasons, one being that it's also one of my favorite lunch and dinner spots in town. But their new seasonal hazy IPA might be the best hazy IPA I've ever had, and that's a testament to the brewers at Überbrew,.
Honorable Mention- Angry Hanks, Carters, Last Chance Cider House and Pub, and Thirsty Street.
---
And there you have it! Now I'm sure there are some highly debated places on this list, and I would love to hear your input below! What did I leave out?
Want to see even more tips and restaurants? Check out VisitBillings.com for an even more complete guide to grub.
Happy adventuring (and eating),
Andy
Scroll down to see next article